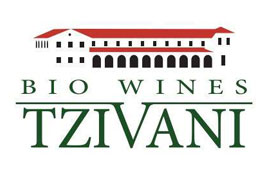 For the last 40 years, the Tzivani family has been cultivating organic indigenous and international varieties, such as Malagouzia, Athiri, Agiorgitiko, Moschofilero, Roditis, White Kountoura, Syrah, Cabernet Sauvignon, Merlot, Sauvignon Blanc, and Chardonnay.
Τhe 28 Ha proprietary organic vineyards of the estate, are situated in the areas of Ritsona and Arma Thiva, which since antiquity are famous for their ideal microclimate for excellent wines. Moreover, the altitude differences and the composition of the soil, contribute to a jealous complexity of flavors and aromas that distinguish the character of the exquisite wines of the Tzivani estate.
The fine process of winemaking is ensured in the winery which is furnished with high technology equipment. The winery is housed in a beautiful building of traditional architecture, in Ritsona, near the town of Chalkida.
All the wines are fermented under the best oenological conditions, while in the underground cellar, where technology meets tradition, all the reds mature and age patiently in small oak barriques.
The wines of the estate have been awarded in all the international wine competitions that have participated, and are exported to many countries in Europe, Asia and America.
In the Museum, the visitor can admire rare objects, traditional tools, and mechanisms of more than 100 years old, which have been used in the wine, olive oil and others agriculture productions.
During the harvest season, the visitors and school students, can harvest and press by feet the grapes making must, must syrup, and must cream.
The winery is hosting multi-purpose venues. Conferences, exhibitions, wedding receptions and several Social and Business Events.
The Tzivani Winery and the Museum are open to the public and for appointment you can call +30 6992533000 and +30 6974040444.