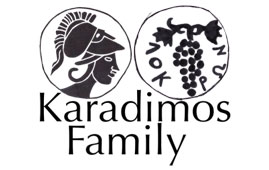 The Estate of Karadimos brothers is located on the slopes of Knimidos, in the wider area of Megaplatanos – Atalanti in Fthiotida.
The planting of the vines started in 1998 and the cultivation was organic from the beggining. The total area of the vineyards is 65 acres where the varieties Asyrtiko, Malagouzia, Sauvignon Blanc and Xinomavro grow.
The Estate produces a total of 4 labels in a small number of bottles
*The locals named the area «Palaiokastra» from the ruins of the city and the castle that were apparently located in the past.